Affected Products: 
ARO 7700 & 7790 Series Hoists with Two-Lever (Single Motor) Pendant Control
Issue Description:
Due to supply chain constraints, some new hoists may ship with an alternative pendant.
Actions Required:
NOTE: The UP/DOWN buttons are transposed.
No action is required for new units. The alternative pendant is functionally equivalent but does have slight differences. Please see photo below.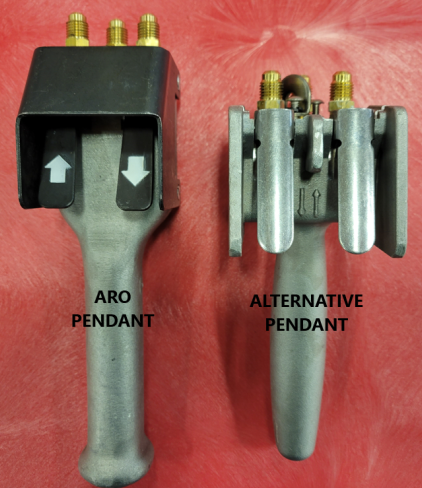 If desired, the part numbers below can be used as an alternative when ordering a replacement pendant:

Pendant Type
Part Number
Description
Standard Length
Two-Lever
Single Motor
(Hoist Motor)
MLK-AL269C-( )
3-Hose Pendant Assembly
Pendant + Hoses + Fittings
6 ft.
MLK-K269C
(47589424001)
Pendant Only
n/a
MLK-ALH3A-( )
3-Hose Assembly
Hoses + Fittings (NO PENDANT)
6 ft.
For Additional Information and assistance:
If assistance is needed in the product selection process, please contact Ingersoll Rand's Power Tool Technical Support Team through Submit a Request via our Help Center, or email at IRTechSupport@irco.com or call us at 866-TOOL-HLP (866-866-5457).