Product Description and Features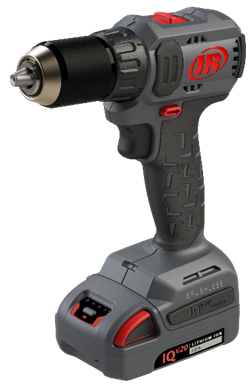 Meet your toolbox's new best friend. Ingersoll Rand's new compact-yet-powerful drill driver, the D3141, delivers big power in a small build — at 25% shorter and 40% lighter than its predecessor, it boasts unyielding durability, long-lasting power, and precise, configurable torque — all in one small package.
Product web pages:
D3141 IQV20™ 1/2" Compact Drill-Driver [In-Process]
D3141 and W3151 IQV20™ COMPACT IMPACT WRENCHES [In-Process]
Ingersoll Rand IQV Sustainable Lithium-Ion Batteries

*Above 2-Battery Kit includes: (1) D3141 tool, (2) BL2012 2.5Ah Battery, and (1) BC1121 Charger
Installation and Maintenance

Warranty
Three-Year Limited Warranty Coverage – Policy Statement
Manuals
Safety Manual:
Cordless Drill/Driver Product Safety Information (47542671)
Parts Manual:
D3141 Parts List (TL-D3141-PLM)
Product Information: 
D3141 Product Information (TL-D3141-PIM)
Technical, Warranty and Quality Support
Submit a Request – for general Technical or Warranty support 
Report a Quality Issue - directly to our Technical Services Team. 
Email:  irtoolhelp@irco.com 
Phone:  800-483-4981 
Show attachment