Product Description and Features
High Torque for Drilling Large-Diameter Holes​
- Powerful brushless motor capable of drilling high hardness metals or large diameter holes​
- 1,100 in-lbs of torque and 2 speed settings
- ½-inch all-metal keyless chuck with carbide teeth ensure drill bits won't slip when drilling through almost any material. ​
​Hammer Mode for Masonry Applications​
- Hammer drill setting activates impacting mechanism to power through masonry and concrete​
​Adjustable Speed to Match RPM to Bit & Application​
- High/Low speed option provides greater control in all modes ​
​Small Size & Weight for Maneuverability and Control ​
- Increase comfort & control of tool​
- Reach into tight places that a normal tool wouldn't normally fit​
​Adjustable Clutch to Set Fastener Depth / Avoid Cam-out​
- 24 position clutch provide torque control to prevent cam-outs and fastener/substrate damage
​
Installation, Setup and Use
Attach battery and note the battery Fuel Gauge LED display as shown below. 
See Product Information Manual for more details.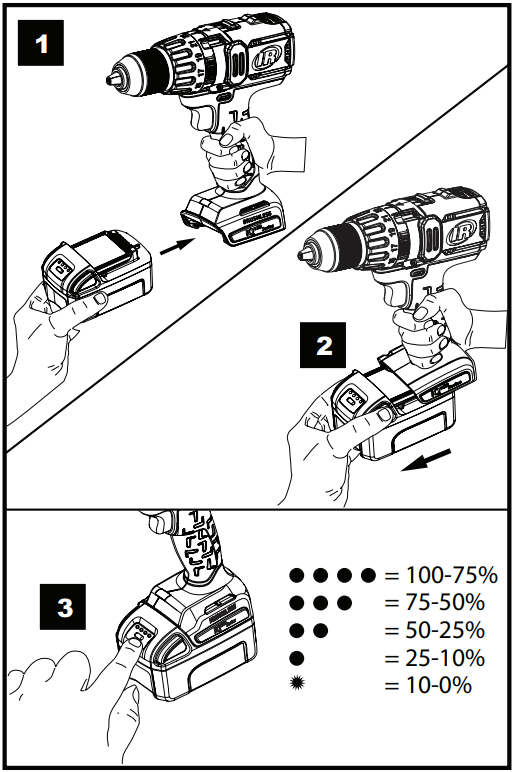 Service, Repair, Maintenance
No lubrication preventive maintenance is required for this tool.
Spare part kits are available for repair.  See Part List Manual.
Manuals
Safety Information Manual - Drills
Cordless 3 Year Warranty Policy
SDS - Rechargeable Lithium Ion Battery Pack
Problem Reporting 
Technical, Warranty and Quality Support 
If assistance is needed in the product selection process, please contact Ingersoll Rand's Power Tool Technical Support Team through Submit a Request via our Help Center, or email at IRTechSupport@irco.com or call us at 866-TOOL-HLP (866-866-5457).
Show attachment