NEVER BREAK ANOTHER BOLT!
The Ingersoll Rand INSIGHTqc controller has a powerful feature called Yield Override that can help make sure you never break off another fastener during the tightening process. This can often happen when there are high fluctuations in the coefficient of friction of the joint due to the varying presence of greases, lubricants or other factors.
VISUALIZATION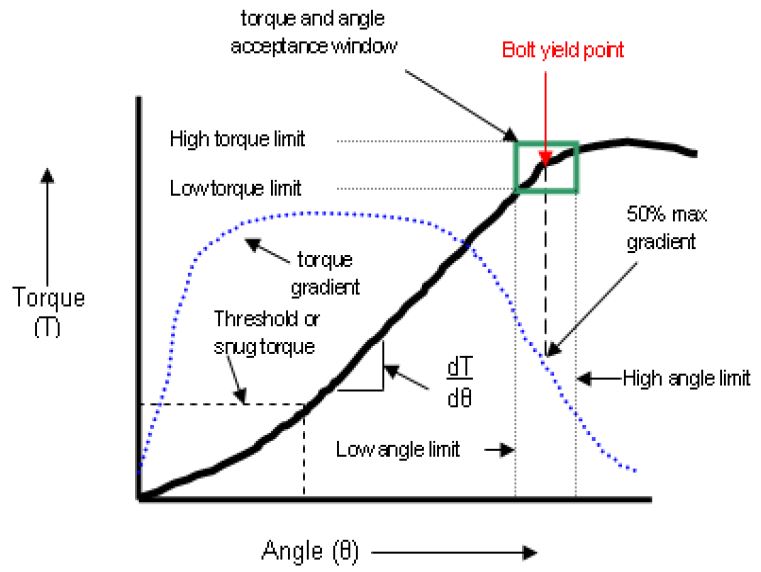 When selecting Torque Control or Angle Control in advanced setup, there is an additional check box for Yield Override. When this option is selected, the tightening strategy works like a normal Torque or Angle strategy, except it additionally checks that none of the joint components has yielded before the target torque or angle is reached. Turning this feature on simply requires checking 1 box - no additional parameters need to be adjusted.

If a yield condition is reached before the target torque or angle is reached, a yield override condition is indicated. If the torque or angle achieved at the yield override condition point lies within the programmed torque or angle limits, the default condition is that the tightening will be accepted. If the user does not want to accept this condition, select Fail on Yield Override, in which case the tightening will be rejected, both torque Hi and Lo lamps will be illuminated and a Yield Override Failure will appear in the Message Box.

In cases where yield is detected before the low limit parameter, Final parameter is below low limit in yield override appears in the Message Box.
Bottom Line: If breaking a bolt or fastener is a costly and/or frequent occurrence for your assembly process, using the Yield Override function from Ingersoll Rand on the INSIGHTqc controller platform virtually ensures you will never break another bolt again!