This article details how to connect to, access and interpret the pulse data that is available on the YZ-T(H) tools using the PC-1 Programming Console.
How to Access the Pulse Data:
1) Connect the PC-1 to the YZ-T using the CC-1-SD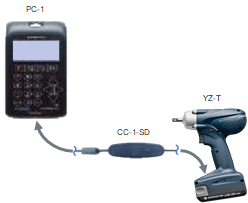 2) PC-1 will boot up automatically upon connection
3) Following initial boot up, MAIN MENU is displayed
4) Press ENT button with PULSE DATA highlighted

5) Select Pulse Data entries 1-5 (Max of 5) by highlighting the desired data set and pressing ENT button.
6) Pulse data is displayed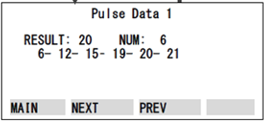 Interpreting the Pulse Data:
The pulse data is displayed in a code sequence on the PC-1.
The table below explains what the results mean.
Example provided below the chart for reference.
| | |
| --- | --- |
| Item | Description |
| RESULT: | Output value at rundown judgement |
| NUM: | Pulse Number |
| Value 1 | Value at pulse 1 |
| Value 2 | Value at pulse 2 |
| Value 3 | Value at pulse 3 |
| Value N‡ | Value at pulse N |
‡Max value for N = 70
Example