The following describes the process to program and adjust the desired output for the Yokota YZ-T(H) Battery Shut-Off pulse tools:
PROGRAMMING STEPS USING A PC-1:
Connect the PC-1 to the YZ-T using the CC-1-SD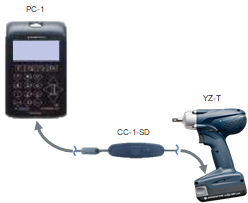 PC-1 will boot up automatically upon connection
Following initial boot up, MAIN MENU is displayed
Press ENT button with PARAM SETTING highlighted
To make adjustments to the parameters, use the UP/DOWN arrow keys to highlight the parameter that needs to be adjusted and then press ENT
Using the Number Pad, enter the new desired value
Press the ENT key to save the new value in the parameter, press the CAN key to cancel the setting change
Other Notes:
Use the NEXT and PREV keys to access additional pages of the settings menu
Pressing MAIN or CAN key, it will navigate back to the MAIN MENU
OUTPUT ADJUSTMENT METHODS:
1) ADJUSTING THE MOTOR SPEED
The output of the YZ-T can be adjusted by changing the speed setting of the motor:

If the HIGH SPEED setting of the motor is increased, the output of the tool becomes higher
If the HIGH SPEED setting of the motor is decreased, the output of the tool becomes lower

The PC-1 is used to adjust the HIGH SPEED setting for the YZ-T and it is saved to the tool once changed
The image below illustrates recommended adjustments based on output performance against the target cut value: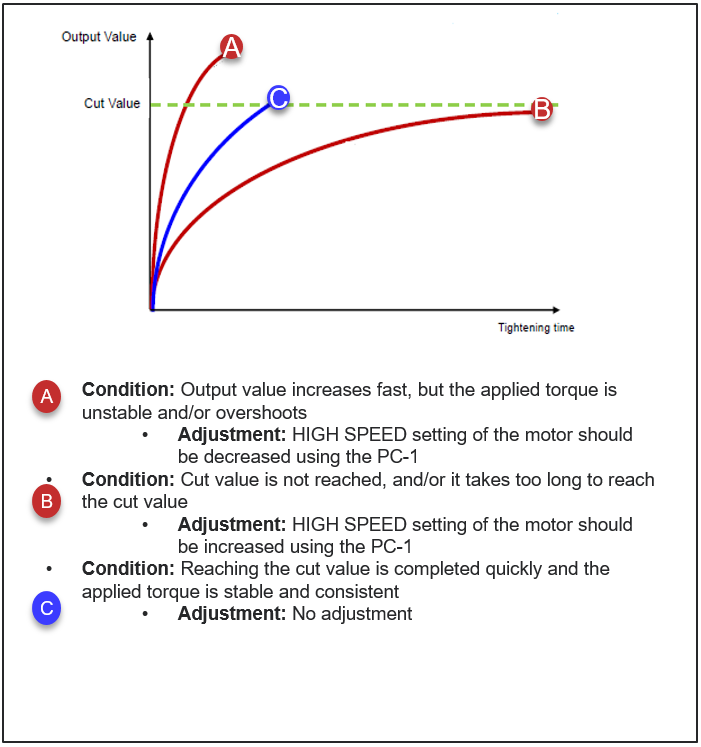 2) ADJUSTING THE PULSE UNIT RELIEF VALVE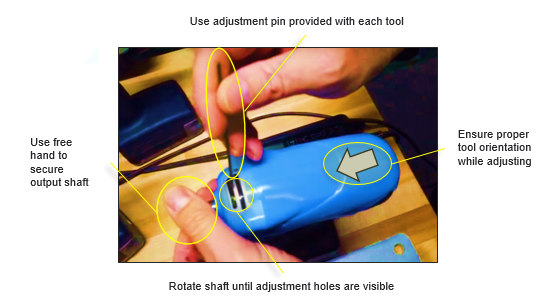 The output of the YZ-T can be adjusted by adjusting the pulse unit relief valve:
1) Remove the battery pack, and manually rotate the main output shaft until the pulse unit relief valve adjusting hole(s) are visible.
2) Adjust the valve by using the provided TF metal pin, holding the main shaft fixed with your hand so that it does not rotate while adjusting.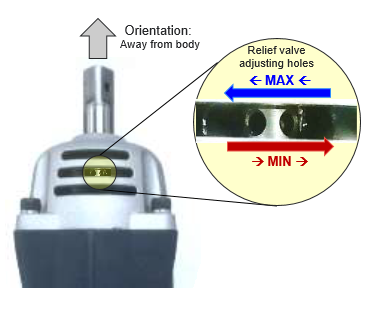 3) With the output shaft of the tool pointed away from you:
To INCREASE pulse output towards MAX: turn CCW (left) to tighten the relief valve
To DECREASE pulse output towards MIN: Turn CW (right) to loosen the relief valve
The chart below illustrates the difference in the pulse output and pulse interval as you move towards either MAX or MIN.