Problem:
DC Electric Assembly tools with tube nut attachments are usually used for assembly of brake lines (or similar) where a compression nut fastens the hydraulic lines to the brake assemblies. The usual tightening strategy is torque control to ensure full seating of the compression nut, and no leaks. There have been cases reported where operators of these assembly tools have placed their finger in the tube nut attachment and accidentally hit the start trigger causing themselves personal injury.
This risk of injury in this event can be greatly reduced or eliminated with Ingersoll Rand QE nutrunners.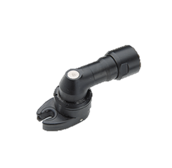 Solution:
Using a QE Series handheld nutrunner with an INSIGHTqc controller, it is possible to program an angle control tightening step at before the final torque step. This angle control step would have a HIGH TORQUE LIMIT set to 0.2 Nm above whatever the drag / prevailing torque is of the gearing (usually a total of about 0.5 Nm), have a target angle of whatever amount of rotation is required to fully close the tube nut opening, and can be programmed to run at very low speed.
Key programming settings:

Initial tightening step: Angle Control Step
Torque Threshold: 0
High Torque Limit : (0.5 Nm)
Then add your target torque step after the initial tightening step as needed.
Result:
Should the operator accidentally place his finger in the pinch point area of the tube nut attachment and pull the start trigger, the maximum torque applied to the tube nut attachment, and the operator's finger would be 0.5 Nm.
This means that the maxium force that the operator is exposed to is very small, and the risk of serious injury is eliminated!