Objective
Outline the steps necessary to connect to a QCXM or QCM controller.
Environment
All users of QCXM and QCM controllers.
Procedure
Find the Ethernet ports underneath the controller (you can use port 1 or port 2) and on your laptop
Connect the Ethernet cable to the controller and the laptop in the ports identified

Ensure the connection and data lights are illuminated for a good connection
On your laptop,

RIGHT CLICK

the windows icon and go to

NETWORK CONNECTIONS
Find and click on

CHANGE ADAPTER OPTIONS
Find and

RIGHT CLICK on ETHERNET
Find and

LEFT CLICK

on

PROPERTIES
Find and

SELECT

on

VERSION 4 (TCP/IPv4), then click

PROPERTIES
The default IP Addresses of the QCXM controller are 192.168.5.5 for Port 1 (on left) and 176.168.5.6 for Port 2 (on right). The default IP Addresses of the QCM controller are 192.168.5.5 for Port 1 and 192.168.6.6 for Port 2.
If connecting to Port 1, change the Network Settings on the Laptop to: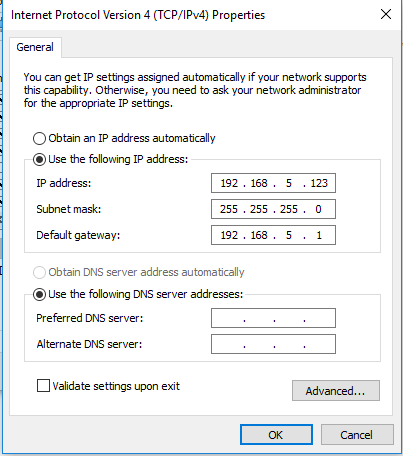 On your laptop, open an Internet Browser.
Enter the IP Address of the controller (192.168.5.5 or 176.168.5.6) into the URL bar and press the Enter key.
Once the controller home screen is presented, find and click the

USER

icon at the top right, and select

LOGIN

Login using the factory default credentials:

USERNAME: admin
PASSWORD: ingersoll

Click

LOGIN

You will be required to change this to your own password after successful first login.