Affected Products: All ST1000 Air Starters
Affected Date Range: From Initial Launch
Related Issue: N/A
Issue Description:
In some cases, when installing or re-installing bolts and/or Heli-Coil inserts to the inlet flange of a ST1000 series starter housing, bolts are not able to be properly seated into the Heli-Coil inserts. Bolts will sometimes bind in the insert threads.
In the field, we have seen cases where the customers cannot insert the bolts into the Heli-Coil. This is typically due to not properly applying oil to the bolts, and/or over-torqueing the bolts beyond specification.
Action:
First, the Heli-Coil inserts need to be installed in the inlet flange. The Heli-Coil cannot be installed with pneumatic impact tools. They should be started by hand and run in with a low-impact driver or hand tool. Inserts should be torqued with a torque wrench, set to no more than 150-inch-pounds per the spec in Figure 1.
Once the Heli-Coils are installed, the bolts can be inserted. In our production environment, the bolts that attach the inlet flange come from the supplier pre-oiled. It is also important to note that the housing are received by us from the supplier with the inserts installed as well. The bolts may not be pre-oiled in a service environment.
If the bolts are stripped of oil, apply a few drops of IR Air Tool Oil (Part Number "10G" for a gallon container) or similar light weight oil to the threads.
When installing the oiled bolts, they should turn with no more than 150 inch-pounds resistance until just before they bottom out. When installing the flange, as you keep tightening, you should tighten the bolts to 50-55 ft-lb.
Please note, these bolts have to be tightened in a cross-pattern to create a good seal between the inlet flange and inlet surface on the housing.

If new Heli-Coil inserts need to be procured, please see Figure 2 for the specifications.
Torque Spec. on Inlet Flange
Inserts: 150 in-lb max to install new inserts;
Bolts: 50-55 ft-lb in a cross pattern.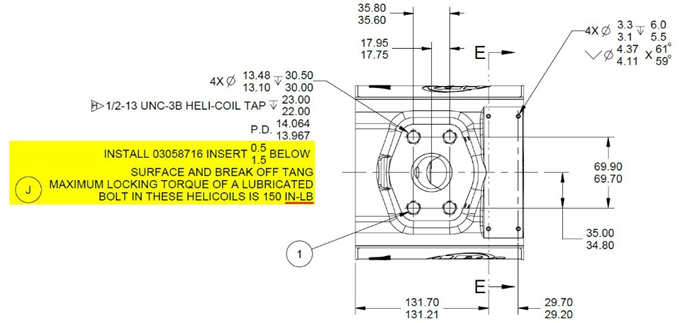 Figure 1
Heli-Coil Insert Drawing: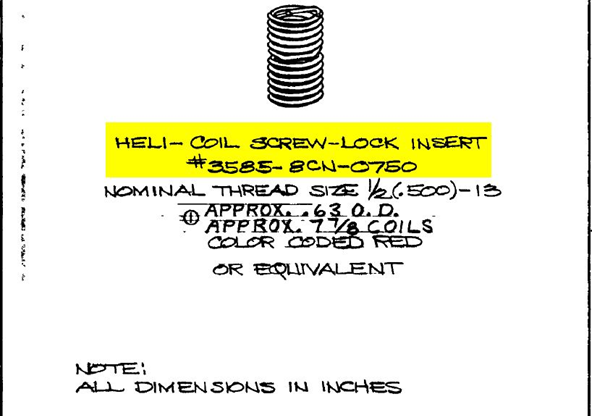 Figure 2
Please see attached file for complete instructions.
Material Disposition:
Hold material 30 days for warrantable repairs, and follow instructions in the Warranty system for material return or discard. If non-warrantable, dispose of parts properly in accordance with local regulations.
For Additional Information and assistance:

Browse the Knowledge Base: https://irtoolhelp.ingersollrand.com
Submit a Request for assistance
Phone: 800-483-4981 or 800-866-5457