Product Description and Features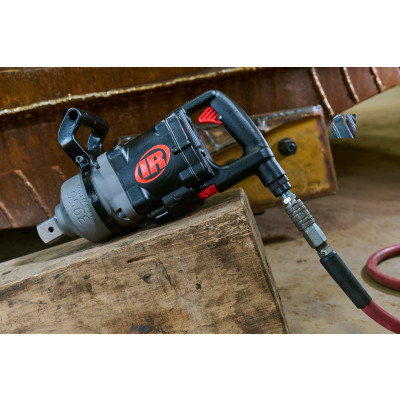 Introducing the Ingersoll Rand® 3956 Series. The 3956 Series Impacts provide best-in-class power-to-weight performance, delivering 5,450 ft-lbs (7,300 Nm) of breakaway torque to power through the most demanding projects. We've taken our premium impacts and improved them even more, adding a 360-degree D-aux handle for enhanced operator ergonomics and greater adaptability, and an increased power rating to take on the toughest of jobs. The impacts are available in the following models, 
3956B1Ti -- #5 Spline Drive, Inside Trigger
3956B2Ti -- 1.5" Square Drive, Inside Trigger
3956A2Ti -- 1.5" Square Drive, Outside Trigger
3956B2TiEX -- 1.5" Square Drive, Inside Trigger, ATEX Certified
Click here to see additional details on the specs, images, and availability. 
Installation and Maintenance
Prior to first use, ensure you have a 1/2" NPT fitting and 3/4" min. hose size. In addition, the tool requires 90 PSI and 105 CFM from your compressor. Additional product installation and information details can be found here.
The tool requires  8-12 drops of our #10 oil through the air inlet prior to each use. After 48 hours of runtime (48 hours of the trigger being pressed), the tool requires 4cc of our #170 grease through the grease fitting on the side of the tool. Please see below for full maintenance instructions.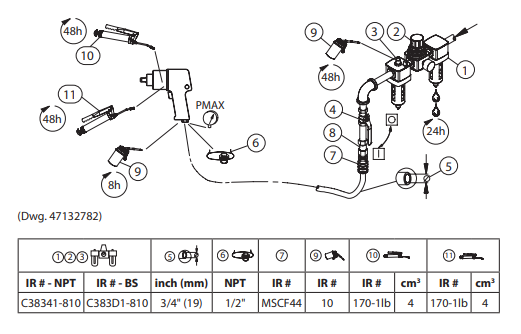 Service and Repair
See the 3956 Series Maintenance Information manual for procedures to service and repair the tool.
See Pneumatic Impact Tool Diagnostic for aid in general diagnosis of impact tool problems.
Warranty
Warranty: Use our normal process.   
One-year Limited Warranty Coverage – Policy Statement
Managed Warranty Service – If non servicing dealers wish to have a customer tool repaired, submit a repair request to our Managed Warranty Service:  Simple, Fast Repair. 
Warranty Claims management:  Reimbursement for warranty labor, parts, completes. 
Service Centers/Distributors with Tavant logins:  File a claim in the Warranty Management System (Tavant) for reimbursement.  Part return will be managed through the system. 
Distributors without Tavant logins (defective returns):  Use the link below to request reimbursement for defective products. 
Manuals
Parts Manual: 3956 Parts Manual (pdf)
Product Information: 3956 Product lnformation (pdf)
Maintenance Information: 3956 Maintenance Information (pdf)
Technical Customer Service
Technical, Warranty and Quality Support - reach our teams globally
Submit a Request – for general Technical or Warranty support 
Report a Quality Issue - directly to our Technical Services Team. 
Email:  irtoolhelp@irco.com 
Toll Free Phone:  800-483-4981 (US and CA only)
Show attachment