Product Description and Features:
When it comes to having the upper hand on handheld tools, Ingersoll Rand's Pencil Grinder fits the bill— and the budget. Not a lot of space? Not a problem. Its slim profile makes it ideal for working in intricate spaces, but don't let its size fool you. This powerful tool packs a punch for nearly any job you throw its way—from precise grinding, to final cleaning and polishing dies, to mold finishing, light deburring and flash removal. Plus, its ergonomic design can't be dismissed. Created with a molded custom TPU grip for easy handling and an oversized speed control knob, the 320PG provides maximum comfort for extended use— all at an affordable attainable price point. Click here to see additional details on the specs, images, and availability.
Key Features and Benefits: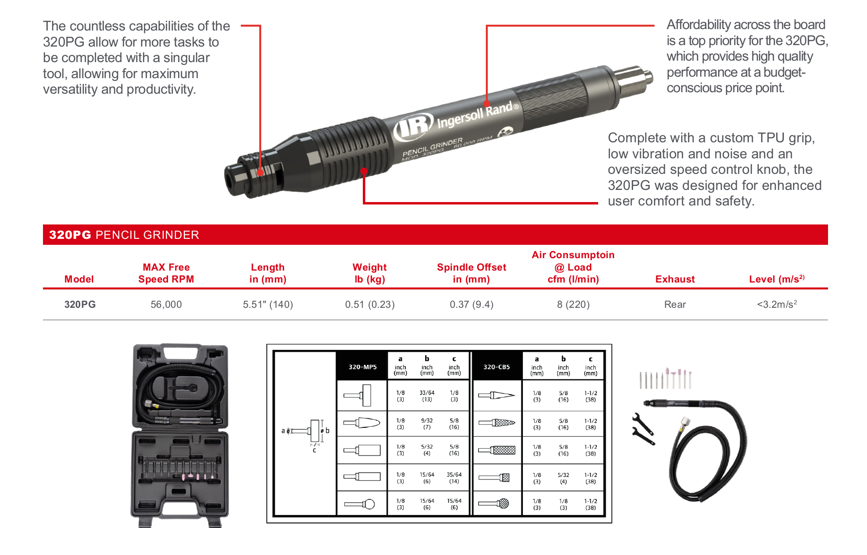 Warranty:
Warranty: Use our normal process.   
One-year Limited Warranty Coverage – Policy Statement
Managed Warranty Service – If non servicing dealers wish to have a customer tool repaired, submit a repair request to our Managed Warranty Service:  Simple, Fast Repair. 
Warranty Claims management:  Reimbursement for warranty labor, parts, completes. 
Service Centers/Distributors with Tavant logins:  File a claim in the Warranty Management System (Tavant) for reimbursement.  Part return will be managed through the system. 
Distributors without Tavant logins (defective returns):  Use the link below to request reimbursement for defective products. 
Problem Reporting:
Technical, Warranty and Quality Support 
Submit a Request – for general Technical or Warranty support 
Report a Quality Issue - directly to our Technical Services Team. 
Email:  irtoolhelp@irco.com 
Phone:  800-483-4981