Table of Contents: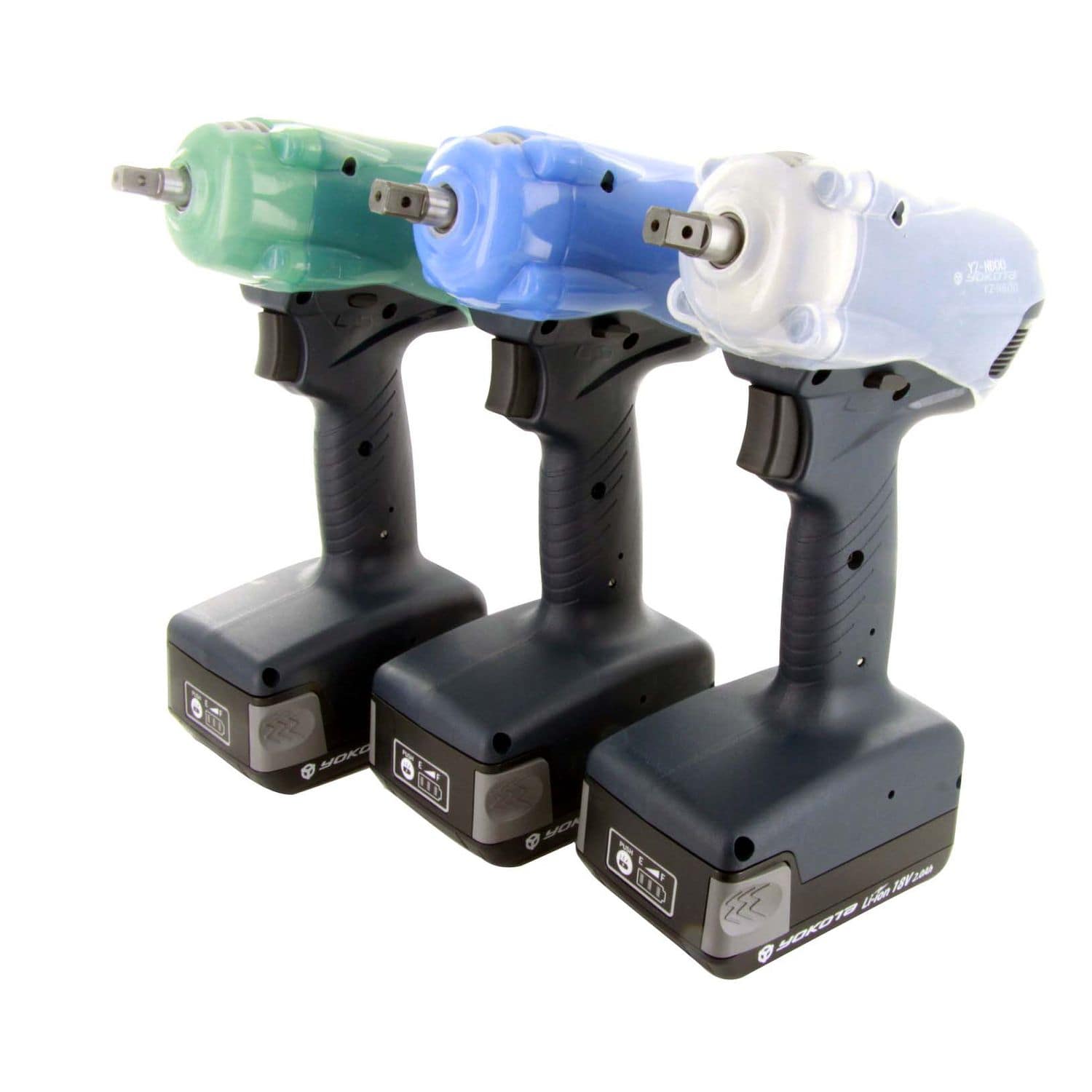 I. Introduction:
The Yokota YZ-T(H) is an ultra-compact battery powered shut-off hydraulic pulse tool, made by Yokota and distributed by Ingersoll Rand in the United States and Canada only. The tool is powered by a Li-Ion battery, and uses a premium Yokota hydraulic pulse unit for high power-to-weight and power-to-speed ratios with no torque reaction - delivering up to 60 Nm of torque on a hard joint. The shut-off function is both programmable via digital and analog controls to meet user and application needs for optimal setup on any application. When programmed correctly, this tool can consistently deliver +/- 20% accuracy.
II. System Configuration:
By connecting the YZ-T(H) tool to the PC-1 via the CC-1-SD, the user can view the rundown results, access the test mode, and access the tightening parameter settings.
NOTE: The battery pack should be detached from the tool when connecting or disconnecting the programming device.
NOTE: When connecting and disconnecting the programming device to or from the tool, take care not to damage the connector.
NOTE: When not connected to a programming device, be sure the port cover is full closed and locked.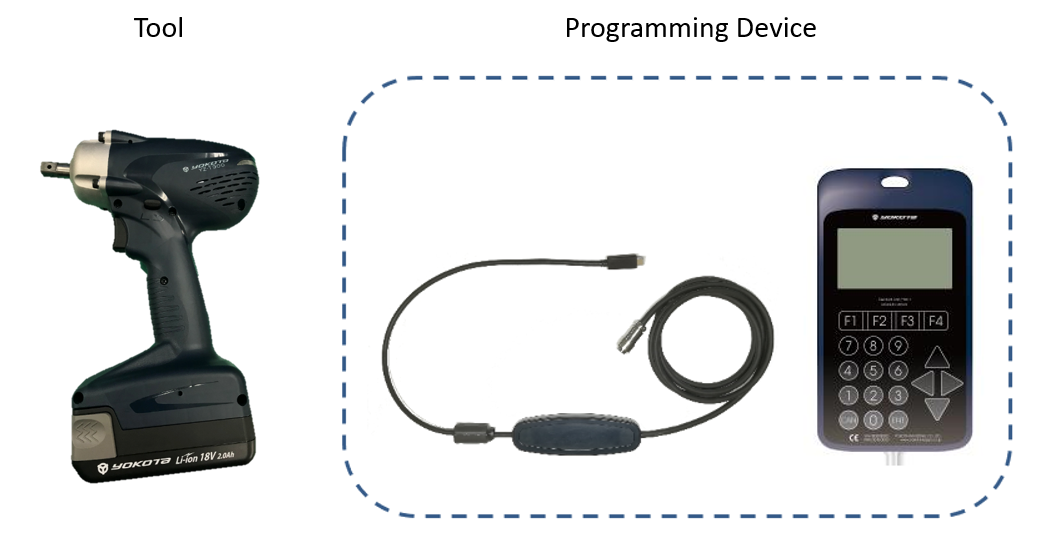 P/N for tool: see tables below

P/N for programming cable: CC-1-SC

P/N for Programming console: PC-1
III. Tool Hardware Overview: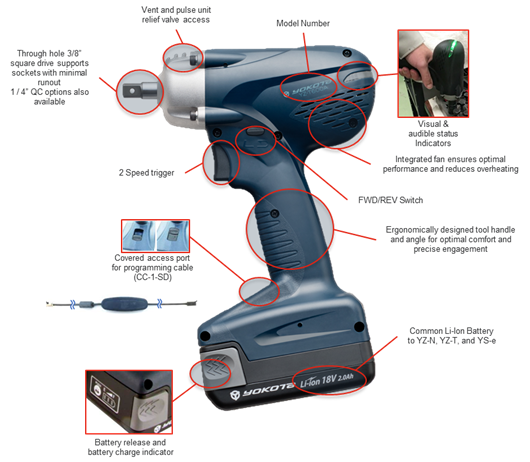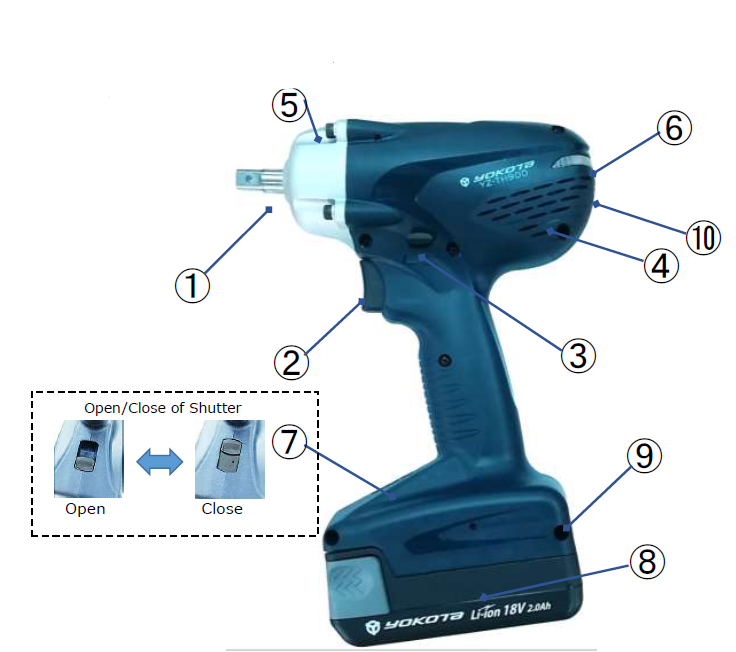 Main Output Shaft

Trigger

To start and stop to rotation of the main shaft of the tool

Reverse lever

To switch the rotational direction of the main shaft

Cooling Fan (integrated)

Built-in fan to cool the motor section and pulse unit

Exhaust outlet of cooling fan

Also used as an insertion point for the torque adjustment pin

LED Indicators

To inform the operator of the tightening result, alarms, or errors with the tool

Cable Connecting Port

The port to connect the setting device (PC-1) using the connection cable
Please be sure to open the shutter when connected, and close the connector when not connected.

Battery Pack
Identification mark

Color indication for the type of tool; YZT-H series are yellow in color

Push Button

Gently push the button using the TF pin for pairing
When there is a tool error, more detailed information is presented via the LED indicators when the push button is pressed which is useful for troubleshooting
IV. Tool Torque Ranges:
NOTE: Below ranges are based on usage on a hard joint rate application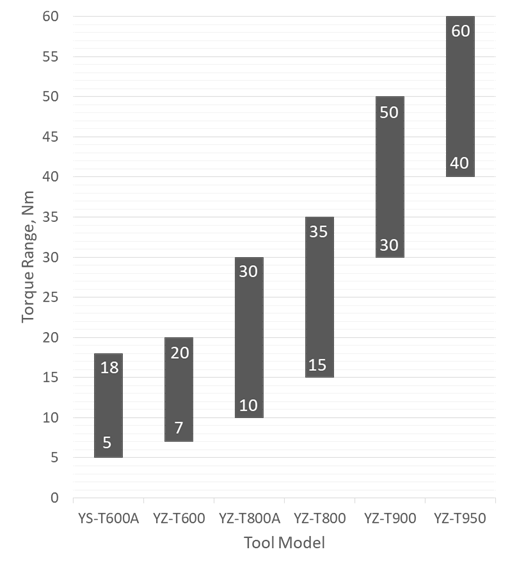 V. Non-Wireless Model Specifications
Tool Model

Torque Range*

Nm

Weight

( ): w/o Battery

kg

Approx. Tightenings per minute **

Approx. Tightenings per charge **

Vibration

m/s2

Noise

dB

Overall Length

mm

Overall Height

mm

Drive output ***

Free Speed

RPM

YZ-T600-Z

7 - 20

1.4 (1.0)

10

1300

< 2.5

72

161

248

3/8 Sq

4800

YZ-T600A-Z

5 - 18

1.4 (1.0

10

1300

< 2.5

72

161

248

1/4 QC

4800

YZ-T800-Z

15 - 35

1.5 (1.1)

8

800

< 2.5

76

166

248

3/8 Sq

4800

YZ-T800A-Z

10 - 30

1.5 (1.1)

8

800

< 2.5

76

166

248

1/4 QC

4800

YZ-T900-Z

30 - 50

1.6 (1.2)

6

700

< 2.5

78

173

248

3/8 Sq

4800

YZ-T950-Z

40 - 60

1.6 (1.2)

5

650

< 2.5

79

173

248

3/8 Sq

4800
NOTES: Above models are tool only, do not include battery /* Max value on a hard joint / ** Please refer to the measurement conditions *** Square drive has a through hole, not a spring detent
VI. Wireless Model Specifications
Models that include a 'H' in the model number - as below - include a Herutu wireless module that is directly compatible with the Herutu Receiver (Example: TW-800R) without any additional costs. This enables the wireless transmission of tightening OK signal for poke-yoke and error proofing using the Herutu receiver.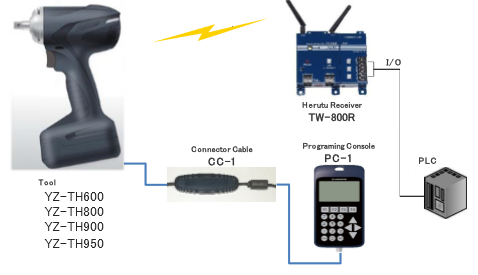 Tool Model

Torque Range*

Nm

Weight

( ): w/o Battery

kg

Approx. Tightenings per minute **

Approx. Tightenings per charge **

Vibration

m/s2

Noise

dB

Overall Length

mm

Overall Height

mm

Drive output ***

Free Speed

RPM

YZ-TH600-Z

7 - 20

1.4 (1.0)

10

1300

< 2.5

72

161

248

3/8 Sq

4800

YZ-TH600A-Z

5 - 18

1.4 (1.0

10

1300

< 2.5

72

161

248

1/4 QC

4800

YZ-TH800-Z

15 - 35

1.5 (1.1)

8

800

< 2.5

76

166

248

3/8 Sq

4800

YZ-TH800A-Z

10 - 30

1.5 (1.1)

8

800

< 2.5

76

166

248

1/4 QC

4800

YZ-TH900-Z

30 - 50

1.6 (1.2)

6

700

< 2.5

78

173

248

3/8 Sq

4800

YZ-TH950-Z

40 - 60

1.6 (1.2)

5

650

< 2.5

79

173

248

3/8 Sq

4800
NOTES: Above models are tool only, do not include battery /* Max value on a hard joint / ** Please refer to the measurement conditions *** Square drive has a through hole, not a spring detent
VII. Key Features & Benefits
New Shut-off Mechanism Design

Prevention of over & under tightening
Easy to tell when the tool needs maintenance
New design shuts off the tool electronically by detecting the amplitude of the tightening force during a loaded motor condition
Built in controls to stop tool operation when battery is 80% discharged - ensuring adequate performance for each tightening

Ultra-Compact and Lightweight Form Factor

Reduction of weight and fatigue to the operator for all day use
Compact design allows easier access in confined spaces

Simple to use Torque Adjustment Method

Flexibility of digital adjustment of programmed values and/or mechanically adjustment of the pulse unit relief valve
Makes adjustments simple and quick
Enables high level of optimization for each application - increasing precision

Display of tightening results on PC-1

Supports immediate tightening analysis during setup
Provides a value that can be used to optimize performance and results
Battery Powered with Oil Pulse Mechanism

Delivers clean and quiet performance
Very low vibration
Almost no torque reaction
Energy efficient
Simple to setup and use

Poke-Yoke and Error Proofing Capabilities

Using the optional Herutu Electronics wireless module and receiver - enables the prevention of un-tightening and the capture of OK tightenings for error proofing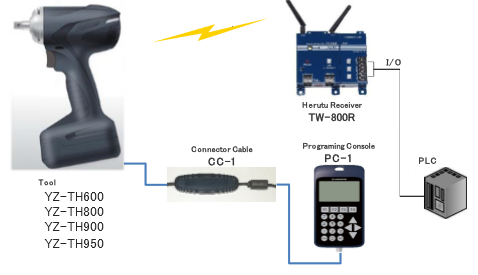 VIII. Accessories