Objective
Occasionally, ETS mode may become disabled on some QX series tools. This instruction outlines steps to re-enable ETS mode.
Environment
All ETS tools.
Procedure
Please follow instructions given below:
When ETS is disabled inadvertently, the blue LED will be OFF on the QX Tool back cap. Please look for blue LED status during fastening operations, especially for Torque strategy when ETS functionality is expected.
Enable ETS from tool display/back cap :
Use the down arrow button on tool back cap to scroll to screen with "0000" and select ✔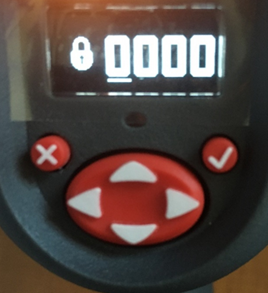 Enter password as "FFFF" and select ✔
With help of right arrow button on tool, enter configuration selection screen.
Select Up arrow button on tool back cap to scroll to ETS selection screen.
To enable ETS, scroll to rectangular waveform (with increasing amplitude), and select ✔ on tool.
ETS enabled tool display:
ETS parameter selection such as Ergonomics, Performance and Productivity modes cannot be configured from QX Tool back cap. Use ICS software to make these selections.
'Enable ETS' setting from ICS software:
Select QX Series on the home screen
Select General Setup from Setup menu
Turn on the checkbox for Enable ETS and save settings.

Note: This is a temporary solution to notify user if ETS gets disabled on its own. This applies to QXX, QXC and QXN tools.
See attached.