Subject:
DIO wiring requirement
Affected Products:
All DIO Boxes with Internal Power selected - QC-DIO-( )
Affected Date Range:
All Serial Numbers from initial launch
Related Issue #:
Engineering Change Number 1404490. IR CAPA #1745404

Issue Description:
DIO Box inputs stop functioning. The internal 24V, when used for powering external loads may create a ground loop that causes an electrical overstress condition.
As a precautionary measure, we are asking for your cooperation in using an external 24V power supply to ensure the proper grounding of the DIO box, controller and tool.

Actions Required:
Loosen and remove the four screws (screw 6-32 x 3/16", pan head, black) to open the DIO box and set the red jumper on the EXT COM position. Then use the 'Wiring Inputs Using External Power Supply' diagram supplied with the box.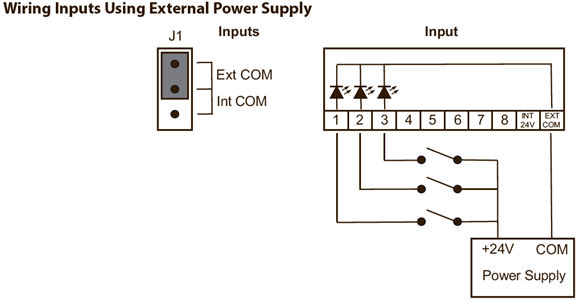 Utilize the power supply below, or an equivalent.
QCX-24V-PS (47658889001) POWER SUPPLY, 24V
Material Disposition:
N/A
Warranty Strategy:
Claims for this repair/modification are warrantable if the DIO Box is still within the warranty period, and there are no signs of abuse.
File a non-serialized Machine Claim in the warranty system for the DIO Box.
| | | |
| --- | --- | --- |
| Causal Part | Failure Location | Service Procedure Job Code |
| QC-DIO-8CH | EE-802 power supply | EE-802-AA |
| | | |
For Additional Information and assistance:
Browse the Knowledge Base: https://irtoolhelp.ingersollrand.com
Submit a Request for assistance
Technical and Warranty Support: Contact Ingersoll Rand Technical Support/Warranty at irtoolhelp@irco.com.
Phone: 800-483-4981
Distribution:
| | | | |
| --- | --- | --- | --- |
| x Internal | x Authorized Service Center | x Channel Partners | X Public |
Document Revision History:
| | | | |
| --- | --- | --- | --- |
| Revision | Date | Comments | Responsible |
| 0 | 19 AUG 2020 | Original issue | MIKE ZALOT |
| | | | |