Question:
What do customers need to know about the new 2146MAX Series for launch in Dec. 2021?
Answer:
Ingersoll Rand® launches the 2146MAX Series Impact Wrenches – including the 2146Q1MAX, the most powerful ¾″ impact in its class.
Introducing the Ingersoll Rand® 2146MAX Series Impact Wrenches:
2146Q1MAX -- 3/4" Impact Wrench
2146Q1MAX-3 -- 3/4" Impact Wrench with 3" Anvil
2146Q1MAX-6 -- 3/4" Impact Wrench with 6" Anvil
2146Q2MAX -- 1" Impact Wrench
We are proud to deliver a product that optimizes user functionality with the power and durability from Ingersoll Rand® impact wrenches. The 2146MAX series enables the customer to improve the productivity and prolong the product's life by including a pressure gauge to ensure optimal air flow and pressure. The impact wrenches have 2700 Nm of nut-busting torque and 1970 Nm of forward fastening torque.
Key Features and Benefits: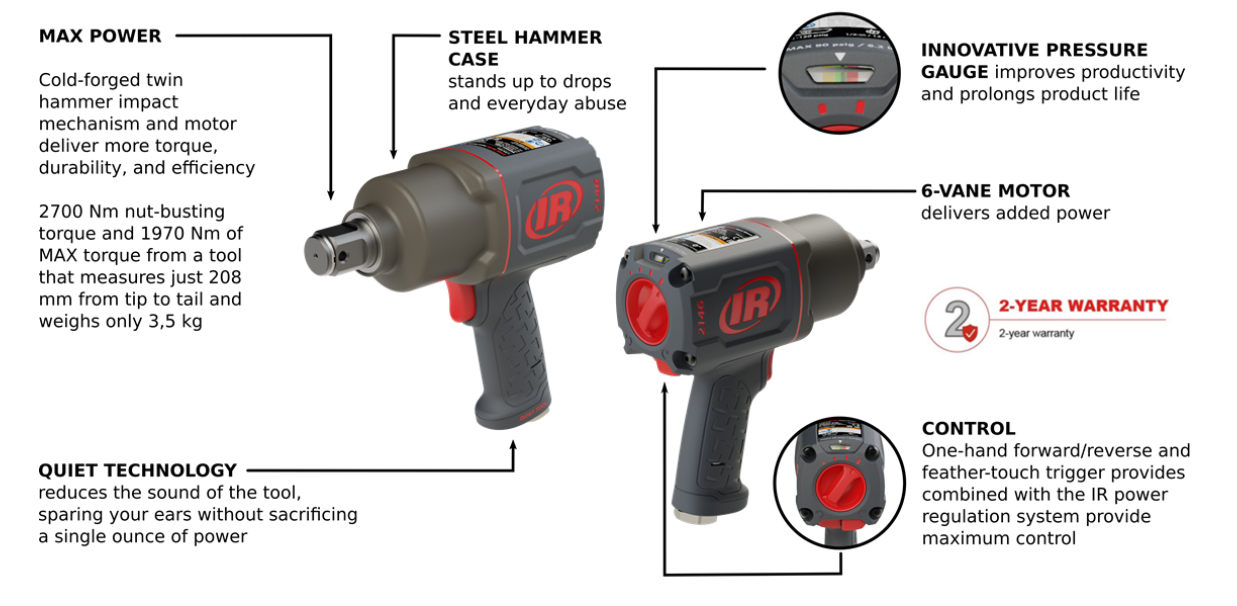 Product Serviceability:
Please note: the 2146MAX service manual available at URL *HERE*. The manual discusses disassembly, reassembly, and impact mechanism lubrication.
For just air motor lubrication details, please click here.
Product Availability:
Orders Accepted: Dec. 15, 2021 (NA & LATAM), Oct. 15th (Asia), Sept. 15th (EUR)
Warranty:
The 2146MAX Series comes with a two-year manufacturing warranty.
More detailed warranty information can be found at www.ingersollrand.com.